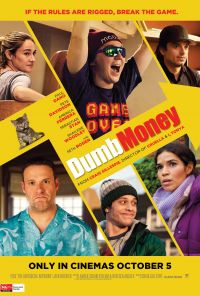 Dumb Money
Rated 15
104 mins 2D Digital Biography Adults £8.00 Evening £9.00
Synopsis
Dumb Money is based on the insane true story of the YouTuber who brought Wall Street to its knees and got rich by turning the video-game retailer GameStop into the world's hottest company. In the middle of everything is regular guy Keith Gill (Paul Dano), who starts it all by sinking his life savings into the stock and posting about it. When his social posts start blowing up, so does his life and the lives of everyone following him. As a stock tip becomes a movement, everyone gets rich – until the billionaires fight back, and both sides find their worlds turned upside down.
Content Advisory: strong language, sex references, drug misuse
First UK Showing: 22nd September 2023
If you wish to book a movie deal for this film, please do not book online, but call us on 015394 33845.