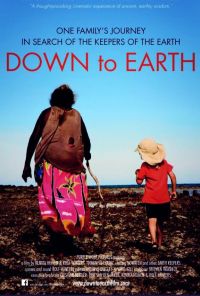 DOWN to EARTH
Rated U
90 mins 2D Digital Adventure Adults £8.00 Concessions £7.00 Evening £9.00
Synopsis
DOWN to EARTH is a mirror to humanity, a poignant and timely reflection on our civilized world. The movie invites us to see the world through the eyes of the Keepers of the Earth. It takes us on an inner journey, connecting us with the source and the mutual path we are walking. DOWN to EARTH is both a wake up call and a resurgence of hope for our world to come.

DOWN to EARTH hopes to inspire people to be the change they want to see, to evolve their inner journey to an outer one. After the film was test marketed in the Netherlands, audiences started to request guidance in their search to reconnect. To answer to this, we started a social enterprise and a foundation to facilitate a people-powered change.
Content Advisory: no material likely to offend or harm
First UK Showing: 14th September 2018
If you wish to book a movie deal for this film, please do not book online, but call us on 015394 33845.