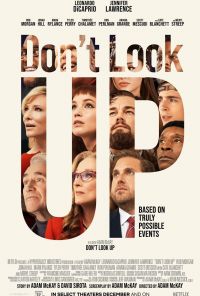 Don't Look Up
Rated 15
138 mins 2D Digital Comedy Adults £8.00 Evening £9.00
Synopsis
A pair of astronomers try to warn everyone on Earth that a giant meteorite will destroy the planet in six months. Starring Timothée Chalamet, Leonardo DiCaprio, Jennifer Lawrence, Cate Blanchett, Meryl Streep, Mark Rylance.
Content Advisory: strong language
First UK Showing: 10th December 2021
If you wish to book a movie deal for this film, please do not book online, but call us on 015394 33845.