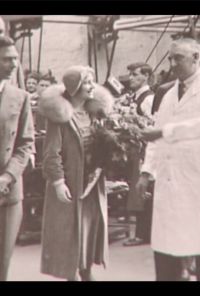 Cumbria Film Archive Film
Join us for a unique trip into the past with a nostalgic collection of classic films from Cumbria Film Archive. Much of the footage has been carefully researched and restored for this event. Just some of the highlights include a look at life in the Lake District using rare cine film from the 1930s through to the 1950s. We will also be showing a wonderful film of the great 1928 Carlisle Pageant which was one of the biggest spectacles ever held in the county. The Cockermouth, Keswick and Penrith railway line has been closed for almost fifty years but we will be bringing it back to life again as it is featured in our screening. There will also be rarely seen footage of wartime training on the lakeland fells as the Driving and Maintenance School near Keswick put troops through their paces in preparation for D-Day. There is also a recently discovered film of a 1935 Royal visit to K-Shoes in Kendal that almost went disastrously wrong. So join us on Tuesday, 16th November as we join forces with Cumbria Film Archive for a special event that takes us back in time in the county.

If you wish to book a movie deal for this film, please do not book online, but call us on 015394 33845.