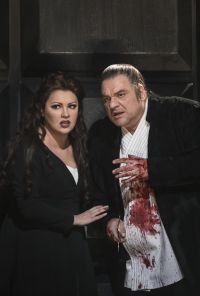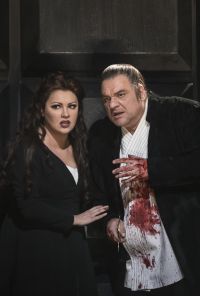 Coming soon: THE ROYAL OPERA: MACBETH
COMING SOON - 22nd January (TBC)

Verdi's opera inspired by Shakespeare's tragedy is conducted by Antonio Pappano, with a magnificent cast including Anna Netrebko, Željko Lučić and Ildebrando D'Arcangelo.

Verdi's life-long love affair with Shakespeare's works began with Macbeth, a play he considered to be 'one of the greatest creations of man'. With his librettist Francesco Maria Piave Verdi set out to create 'something out of the ordinary'. Their success is borne out in every bar of a score that sees Verdi at his most theatrical: it bristles with demonic energy.

Phyllida Lloyd's production for The Royal Opera filmed in 2018 is richly hued, shot through with black, red and gold. The witches – imagined by designer Anthony Ward as strange, scarlet-turbaned creatures – are ever-present agents of fate. Lloyd depicts the Macbeths' childlessness as the dark sadness lurking behind their terrible deeds. The Royal Opera's production uses Verdi's 1865 Paris revision of the opera, which includes Lady Macbeth's riveting aria 'La luce langue'.