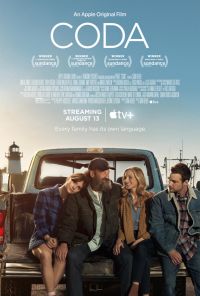 CODA
Rated 12A
112 mins 2D Digital Drama Adults £8.00 Concessions £7.00 Evening £9.00
Synopsis
Oscar winner for Best Picture, Best Actor and Best Screenplay.

As a CODA (Child of Deaf Adults) Ruby is the only hearing person in her deaf family. When the family's fishing business is threatened, Ruby finds herself torn between pursuing her passion at Berklee College of Music and her fear of abandoning her parents.
Content Advisory: infrequent strong language, moderate sex references, drug misuse
First UK Showing: 22nd April 2022
If you wish to book a movie deal for this film, please do not book online, but call us on 015394 33845.