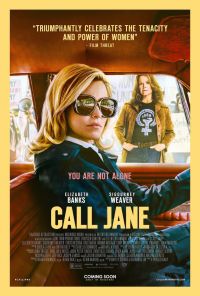 Call Jane
Rated 12A
121 mins 2D Digital Drama Adults £8.00 Concessions £7.00 Evening £9.00
Synopsis
Chicago, 1968. As a city and the nation are poised on the brink of violent political upheaval, suburban housewife Joy leads an ordinary life with her husband and daughter. When Joy's pregnancy leads to a life-threatening condition, she must navigate a medical establishment unwilling to help. Her journey to find a solution to an impossible situation leads her to the "Janes," a clandestine organization of women who provide Joy with a safer alternative — and in the process, change her life.
Content Advisory: abortion theme, sex references, drug misuse, strong language
First UK Showing: 4th November 2022
If you wish to book a movie deal for this film, please do not book online, but call us on 015394 33845.