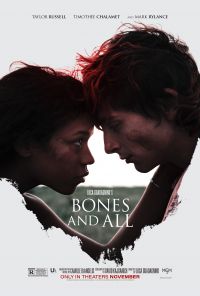 Bones and All
Rated 18
131 mins 2D Digital Drama Adults £8.00 Evening £9.00
Synopsis
"Bones and All" is a story of first love between Maren (Taylor Russell), a young woman learning how to survive on the margins of society, and Lee (Timothée Chalamet), an intense and disenfranchised drifter… as they meet and join together for a thousand-mile odyssey which takes them through the back roads, hidden passages and trap doors of Ronald Reagan's America. But despite their best efforts, all roads lead back to their terrifying pasts and to a final stand that will determine whether their love can survive their otherness.
Content Advisory: strong violence, gore
First UK Showing: 23rd November 2022
If you wish to book a movie deal for this film, please do not book online, but call us on 015394 33845.