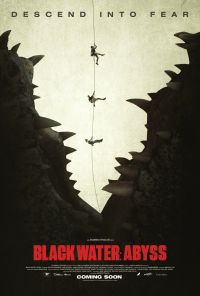 Black Water: Abyss
Rated 15
98 mins 2D Digital Action Adults £8.00 Evening £9.00
Synopsis
Adventure-loving couple Eric and Jennifer convince their friends, Yolanda and Viktor, to explore a remote, uncharted cave system in the forests of Northern Australia.

With a tropical storm approaching, they abseil into the mouth of the cave, knowing they'll be safe underground. But when the caves start to flood, tensions rise as oxygen levels fall and the group finds themselves lost, disoriented, and trapped.

Little do they know, the dank air and rising water are the least of their worries. They discover the storm has brought in a pack of apex predators - dangerous and hungry crocodiles. As danger mounts, long-kept secrets emerge and the friends turn on each other in a frantic fight for survival.
Content Advisory: strong language, threat
First UK Showing: 10th July 2020
If you wish to book a movie deal for this film, please do not book online, but call us on 015394 33845.