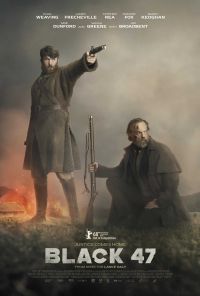 Black '47
Rated 15
100 mins 2D Digital Drama Adults £8.00 Evening £9.00
Synopsis
It's 1847 and Ireland is in the grip of the Great Famine that has ravaged the country for two long years. Feeney, a hardened Irish Ranger who has been fighting for the British Army abroad, abandons his post to return home and reunite with his family. He's seen more than his share of horrors, but nothing prepares him for the famine's hopeless destruction of his homeland that has brutalised his people and where there seems to be no law and order. He discovers his mother starved to death and his brother hanged by the brutal hand of the English. With little else to live for, he sets a destructive path to avenge his family.
Content Advisory: Strong violence
First UK Showing: 28th September 2018
If you wish to book a movie deal for this film, please do not book online, but call us on 015394 33845.