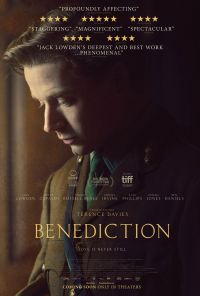 Benediction
Rated 12A
137 mins 2D Digital Biography Adults £8.00 Concessions £7.00 Evening £9.00
Synopsis
BENEDICTION explores the turbulent life of First World War poet Siegfried Sassoon, played by Lowden and Capaldi during different stages of his life. Sassoon was a complex man who survived the horrors of fighting in the First World War and was decorated for his bravery, but who became a vocal critic of the government's continuation of the war when he returned from service. His poetry was inspired by his experiences on the Western Front and he became one of the leading war poets of the era.

Adored by members of the aristocracy as well as stars of London's literary and stage world, he embarked on affairs with several men as he attempted to come to terms with his homosexuality. At the same time, broken by the horror of war, he made his life's journey a quest for salvation, trying to find it within the conformity of marriage and religion. His story is one of a troubled man in a fractured world, searching for peace and self acceptance, something which speaks as meaningfully to the modern world as it did then.
Content Advisory: images of real dead bodies, moderate sex references, injury detail
First UK Showing: 20th May 2022
If you wish to book a movie deal for this film, please do not book online, but call us on 015394 33845.