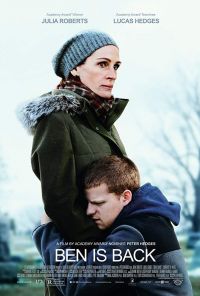 Ben is Back
Rated 15
103 mins 2D Digital Drama Adults £8.00 Evening £9.00
Synopsis
Follows the charming yet troubled Ben Burns (Hedges), who returns home to his unsuspecting family one fateful Christmas Eve. Ben's wary mother Holly Burns (Roberts) welcomes her beloved son's return, but soon learns he is still very much in harm's way. During the 24 hours that may change their lives forever, Holly must do everything in her power to avoid the family's downfall.
Content Advisory: strong language, drug misuse
First UK Showing: 15th March 2019
If you wish to book a movie deal for this film, please do not book online, but call us on 015394 33845.