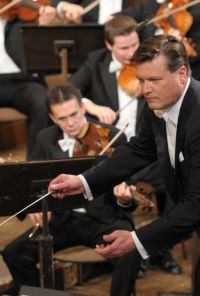 Beethoven's 9th Symphony: The Ode to Joy
Sunday 21st October 2018 at 4.00pm

A perfect way to start the festive season. Beethoven's Ode to Joy, performed by the Vienna Philharmoniker, conducted by Christian Thielemann, one of the most recognised conductors of our time, leading the legendary Vienna Philharmonic orchestra. With Annette Dasch, Mihoko Fujimura, Piotr Beczala and George Zeppenfeld.

There is perhaps no other musical ensemble more consistently and closely associated with the history and tradition of European classical music than the Vienna Philharmonic. In the course of its over 160 year history, the musicians of this most prominent orchestra of the capital city of music have been an integral part of a musical epoch which, due to an abundance of uniquely gifted composers and interpreters, is widely regarded as unique.

The orchestra's close association with this rich musical history is best illustrated by the statements of countless pre-eminent musicians of the past. Richard Wagner described the orchestra as being one of the most outstanding in the world; Gustav Mahler claimed to be joined together through "the bonds of musical art"; and Richard Strauss summarized these sentiments by saying: "All praise of the Vienna Philharmonic reveals itself as understatement."

Recorded in April 2010.

Conductor: Christian Thielemann
Soloists: Annette Dasch, Mihoko Fujimura, Piotr Beczala, Georg Zeppenfeld
Orchestra Wiener Philharmoniker
Singverein der Gesellschaft der Musikfreunde Wien

Call us on 015394 33845 to book a Movie Deal or book tickets only online!