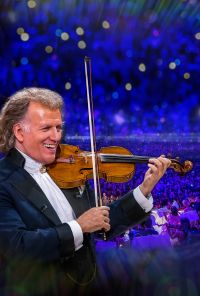 André Rieu Magical Maastricht: Together In Music
André Rieu is back in cinemas to help lift your spirits!

André Rieu's Magical Maastricht celebrates 15 years of André's glorious hometown concerts. The King of the Waltz has selected his most spectacular performances and emotional songs and will bring the joyous atmosphere of his iconic open-air concerts in Maastricht straight to your local cinemas.

Cinema host Charlotte Hawkins will be joined by André Rieu for an exclusive interview from The Vrijthof Square in Maastricht revealing how life has changed for the maestro during the global pandemic and what it means for the future. How is he coping in isolation as a musician, a father and a grandfather? This is the best way to get up close and personal with André!

Join André Rieu, the Johann Strauss Orchestra, his world-class sopranos and The Platin Tenors for an uplifting concert from the safety of your local cinema reunited with your loved ones in music. It promises to be the heart-warming event of the season!