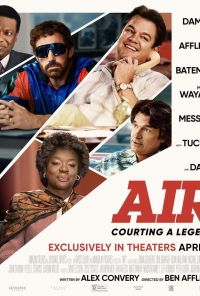 AIR
Rated 15
112 mins 2D Digital Drama Adults £8.00 Evening £9.00
Synopsis
From award-winning director Ben Affleck, AIR reveals the unbelievable game-changing partnership between a then-rookie Michael Jordan and Nike's fledgling basketball division which revolutionized the world of sports and contemporary culture with the Air Jordan brand. This moving story follows the career-defining gamble of an unconventional team with everything on the line, the uncompromising vision of a mother who knows the worth of her son's immense talent, and the basketball phenom who would become the greatest of all time.
Content Advisory: strong language
First UK Showing: 5th April 2023
If you wish to book a movie deal for this film, please do not book online, but call us on 015394 33845.