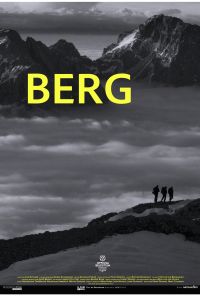 ADVENTURE CLUB: Berg
Rated 12A
79 mins 2D Digital Documentary Adults £8.00 Concessions £7.00 Evening £9.00
Synopsis
Screening as part of our ADVENTURE CLUB.

Berg follows the stories of the stones, rocks and peaks of a vast mountain landscape. Stark black and white images and a minimalistic ambient soundtrack draw the viewer into a vibrant, cinematic experience. Just as all sense of scale is lost amidst this raw and primal trip across the panorama of the mountains, we see three small human figures – hikers tackling the peak. Following their journey throughout the film, against rising and hanging fog, thunderstorm and falling rain, we experience first-hand the overwhelming power of nature and the insignificance of man within it.
Content Advisory: images of a real dead body
First UK Showing: 7th August 2023
If you wish to book a movie deal for this film, please do not book online, but call us on 015394 33845.