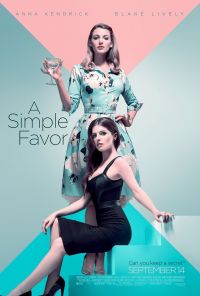 A Simple Favour
Rated 15
117 mins 2D Digital Crime Adults £8.00 Evening £9.00
Synopsis
A SIMPLE FAVOR, a stylish post-modern film noir directed by Paul Feig, centers around Stephanie (Anna Kendrick), a mommy blogger who seeks to uncover the truth behind her best friend Emily's (Blake Lively) sudden disappearance from their small town. Stephanie is joined by Emily's husband Sean (Henry Golding) in this thriller filled with twists and betrayals, secrets and revelations, love and loyalty, murder and revenge.
Content Advisory: Strong language, sex references, drug misuse, violence
First UK Showing: 21st September 2018
If you wish to book a movie deal for this film, please do not book online, but call us on 015394 33845.