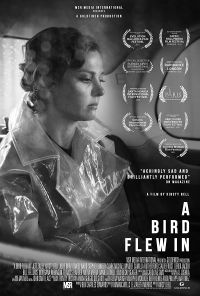 A Bird Flew In
Rated 15
91 mins 2D Digital Drama Adults £8.00 Evening £9.00
Synopsis
When the UK's lockdown is announced, the entire cast and crew of a feature film are sent home - alone. Now there are only actors with no audience, production crew with no set and directors with no script. Couples fall apart, others come together, and some find they are simply alone - A feature film composed of seven interlinked narratives, A Bird Flew In follows and examines what happens when we are freed from external distractions and forced to find a meaning in our loves and lives. Starring Sadie Frost, Derek Jacobi, Morgana Robinson, Jeff Fahey, Frances Barber, Julie Dray, Sophie Kennedy Clark and Camilla Rutherford.
Content Advisory: very strong language, domestic abuse
First UK Showing: 30th September 2022
If you wish to book a movie deal for this film, please do not book online, but call us on 015394 33845.